Covert Infra-red conversion kit available for both the Golight wired and Golight Radioray remote control lamps. Pictures above and below show Radioray with IR Enhancer. Note the clip on flood adapter to change beam from spot to flood. Click on image below for more details
Golight protective dome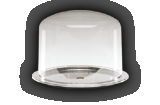 Golight Stryker HID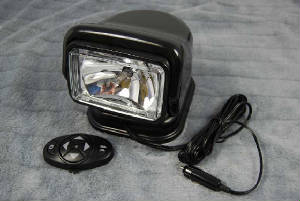 Click on image to enlarge
Golight lamps are used on a variety of vehicles, adding to the security and effectiveness of personnel in the vehicles. They are tough and reliable.
In situations where secret radio frequencies are in operation, the Golight of choice is the wired model 2020 or 2021. These can be protected by strong domes (tested by M.I.R.A.), or by bespoke cages. Clip on filters in red, amber and blue, are available for most of the Golight lamps, including the hand held Profiler 11.

Golight Stryker HID the most powerful spotlight in the range
features magnetic base, wireless remote (can be used up to 150 feet from light )and cigarette socket plug for portability. Uses only 50 watts.

NEW GOLIGHT LED available in Golight models and Stryker models or as retrofit. Only 3 amp draw. Instant on.

A new infrared conversion kit for the Golight lamps in 2,5 and 7 series features a clip on filter to convert the spot light to a flood light.
The infrared filter can be removed by un-doing 4 screws to convert the lamp to a conventional light.

For infrared conversion kit add £170 to basic cost of lamp
Golight Model 2020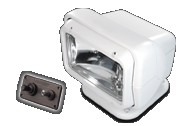 Golight Model 2020 (white) or 2021 (black)
with dash mount remote
Package includes 20 foot wiring harness
with quick dis-connects for easy installation.
Mounting hardware
Unit measures 7"x7"x6.5"
Available in either 12v or 24 v

Golight Profiler 11 powerful military grade hand held re-chargeable searchlight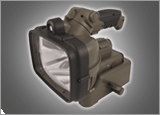 Click image to enlarge
Customer testimonials
"They have been very great products,
and we have defeated numerous IED
threats in our area because of them"
1Lt Jason Neumann
"This light can't be beat!! I have punished
this light for 2 months and it just won't stop.
Excellent light!!!"
Doug Kreiger, Scottsburg, IN
"Very powerful compared to my other spotlights.
Very good design...fast recharge, and the shoulder
strap really comes in handy."
Sammy Leung
"I am impressed with the overall quality and
performance...perfect for tracking"
Chad Horst



As a Route Clearance Platoon Leader in Iraq we used Golights on every truck we had. On many occasions the performance of the GOLIGHT combined with the ability to remotely scan the road allowed us to see the small signs that alerted us to the presence of an Improvised Explosive Devise in the road. On several other occasions the power and range of our GOLIGHTS resulted in our spotting insurgents on roof tops that had intended to blow us up but instead they were forced to run for their lives, often with our bullets following them. As for durability I'm not sure of a tougher test for a light than to continue working after a vehicles was blown up by an IED but the GOLIGHTS always did. In Afghanistan I am doing Route Clearance again and almost all our work is in the open desert. Here we use the GOLIGHTS not only to look for IEDs but we use them to constantly search the desert terrain ahead of us and they are the best tool that I know of to scan ahead in a sweeping motion during off road driving to pick the best route and prevent vehicles from getting stuck in a hole or even rolling over. Army Engineers use GOLIGHTS because they are tough, dependable, and they get the job done.
CPT TIM PETERSON
309TH MAC (Route Clearance)
Commander

Camp Leatherneck



I forgot to mention that the Golight has been instrumental in our discovering several roadside bombs at night. This surely saved some severe damage to equipment & may possibly have saved soldiers lives (including our own). We have also had some close detonations without damage to the bulb due to shock. The Golight was used twice during severe dust storms with zero visibility to identify the edge of the road, 2 ft. from the vehicle. The standard high-intensity flashlights (Pelicans) did not do the trick, nor did our fixed halogen spotlights. Identifying the edge of the road enabled us to continue to our base safely, albeit slowly, saving us several hours of choking dust on the route. The light continued to work properly & has so far only required blowing out the accumulated dust with high-pressure air to keep working.

Thanks.

—Jock Simpson, U.S. Army