Review
"....this will be the best money you'll spend on a camouflage item that you will have at hand for all your hunting needs. Dubbed the Mini Ghillie suit it has short sleeves and is available in four patterns: Mossy Oak, Realtree, Four seasons safari and Desert. The idea is that this suit easily slips over existing clothing to give a very effective instant camouflage effect whilst not impeding the shooter in any way.
It is in one-piece, incorporating both the torso and hood sections and is made from a lightweight machine woven mesh material. This is very strong and honeycomb in construction, really allowing the air to flow around the shooter making it comfortable in use. To this is sewn a series of parallel cotton fabric strips that are eight inches in length and split down the middle. As they sit on top of each other and hang between the folds, the overall effect is that of being ragged and torn, perfect for disguising the body form.
My Ghillie suit was Mossy oak colour and with the jumble of colours was a great match to woodland and hillsides around my home. Easily slipped on, the suit is fastened via two quick detachable plastic buckles and the hood can be brought forward to cover the face and neck area.
Because of the woven-in fabric strands, vision is not that badly obscured, although you may want to trim it to your own requirements. The sleeves are indeed short, as is the torso section. I am 6 foot 2 inches tall and its 24 inch length comes half way down my back, but that's the point - ease of mobility and ample coverage is the name of the game with this suit. In fact with all the tassels hanging down the suit it appears a lot longer than it is. When in use you will most probably be in a sitting position or lying facing the quarry and so there is more than enough coverage.
Another great benefit is that the suit conveniently packs down into a roll with its own retaining straps.
As I said, great value, and I have used it to great effect both for shooting and photographing roe and foxes; my three year old son also likes scaring his 1 year old brother when he wears it."
Bruce Potts
Gunmart May 2005
£150 Snipersystems SF Ghillie
(includes p&p to UK)
Available in Desert Camo or Realtree hardwood.
Please click
here
to buy on line or phone 01455 291100
Snipersystems SF ghillie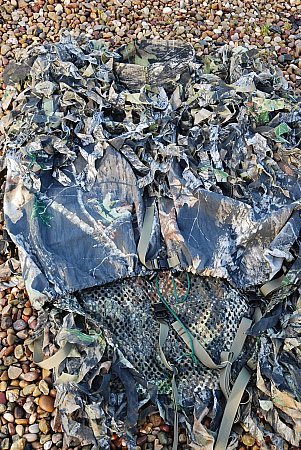 Click on image to enlarge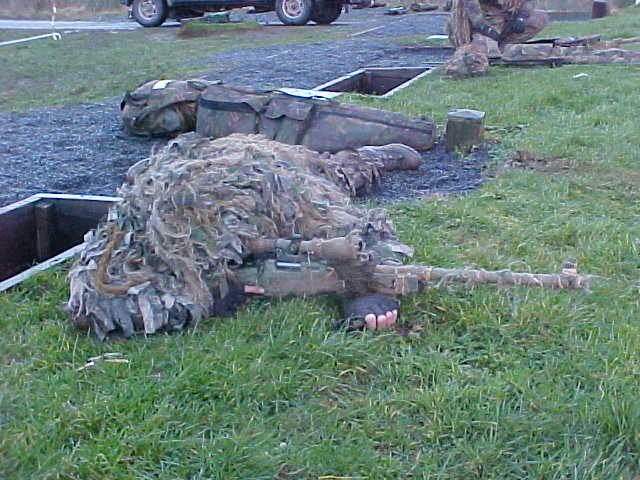 Specially designed by Global Rifle for our Special Forces, this lightweight ghillie coat is designed to enable covert crawling. The ghillie is long at the back, while the front is a collared, loose, sleeveless, zip jacket with camo tags attached on the upper part, but not where they might get snagged while crawling. The front is attached to the back by adjustable nylon clips, making the ghillie extremely versatile if you need to spread it or cover gear. There is a drawstring round the bottom of the jacket front. The majority of the ghillie is made of strong netting with poly cotton tags sewn in. All Snipersystems Ghillie Suits can easily be customised. The mesh base enables hessian, foliage etc to be either sewn, stapled or tied in. Long pieces of hessian pulled from an old sack can be attached using a crochet hook. Integral straps enable the ghillie to be rolled up when not in use and carried slung over the shoulder.
Available in a choice of two colours Realtree Hardwood and Desert
£25 Snipersystems Ghillie hat
Click
here
to order online
A well designed brimmed ghillie hat covered in mesh with camoflage tags. Can be customised by tying foliage, twigs,etc into mesh. Alternatively strips torn from hessian sacks can be attached using a crochet hook . Mossy Oak colour.
Can be teamed up with Ghillie face veil and Snipersystems SF ghillie (available separately)
Underside of ghillie hat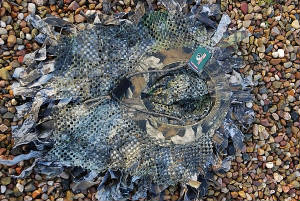 Click on image to enlarge
£22 Snipersystems Ghillie Facemask
Click here
to order on line
Ghillie face veil made of comfortable mesh with camo tags sewn in. Soft lining round eyes and nose. Adjustable velcro fastening at back. Long enough to tuck in. Can be stuffed in pocket when not in use. Extremely effective. Colour Mossy Oak